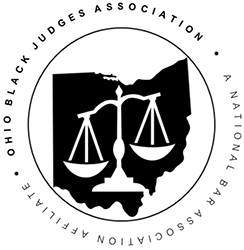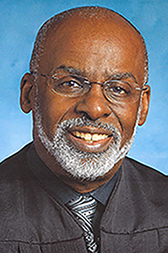 RONALD B. ADRINE is a life-long resident of Greater Cleveland. He graduated from Fisk University and the Cleveland-Marshall College of Law. He passed the Ohio bar in l973. In 1974, he joined the staff of the Cuyahoga County Prosecutor as an assistant in the criminal trial division. In 1976, he entered the private practice of law with his father, the late Russell T. Adrine. Two years later, he was appointed to serve as a Senior Staff Counsel to the U.S. House of Representatives Select Committee on Assassinations. He first ran for a seat on the Cleveland Municipal Court bench in 1981.
Judge Adrine was reelected five times to full six-year terms, without opposition, most recently in November of 2011. He was elected by his peers to serve as Administrative and Presiding Judge of his Court, from 2009 until his retirement at the end of his final term in 2017.
He has been honored as a Distinguished Alumni of Cleveland State University and as a Cleveland-Marshall Law Alumni Association Alumni of the Year. He was also selected (along with his father, posthumously) for inclusion in the inaugural class of the Cleveland-Marshall College of Law's Hall of Fame.
In 2000, he was awarded the Ohio Bar Medal by the Ohio State Bar Association, its highest honor, in recognition of his contributions to the profession and the community. In 2017, he received the President's Award from the Association of Municipal and County Court Judges of Ohio, in recognition of his outstanding and meritorious service as a municipal court judge. That same year, he also received the Freedom Fund Award from the Cleveland Branch of the National Association for the Advancement of Colored People for his many contributions toward the betterment of the community during his long career. In 2018, he was appointed by Cleveland-Marshall to serve as its initial Jurist in Residence.
In retirement, he continues active service to the community. In 2018, he chaired the Cuyahoga County Charter Review Commission. He pursues efforts at justice system reform, with the Laura and John Arnold Foundation's Research Advisory Board, the National Association of State Courts Judicial Community Engagement Initiative and its National Fines, Fees and Bail Task Force. He sits on the National Board of Futures Without Violence. He serves as faculty for the National Judicial Institute on Family Violence, the Ohio Judicial College New Judges Orientation, as well as Raising the Bar: a joint initiative of the Ohio Supreme Court and the Ohio State Bar Association to combat sexual harassment in the legal community. He is a member of the Ohio State Bar Association's Civics Education Initiative and the Thomas J. Moyer Legacy Committee. He recently joined the Executive Committee of the newly-formed Ohio Association of Black Judges, Inc., as the chair of its Communications Committee.