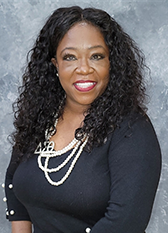 RaMona D. Benson is a diverse, problem-solving, executive-level professional with over 25 years of proven experience in leadership, analysis, development, and implementation in more than five business areas. RaMona is dedicated to building a brand of excellence, clear communication at every level, and maintaining a strong record of successful IT and operational implementations. As a seasoned professional with national certifications and training, she stays current and often ahead of industry trends. She prides herself in possessing the ability to set and adhere to defined business models, by using strategic/pivotal decision-making skills that affect growth and opportunities for any court operation.
RaMona began her career with Cleveland Municipal Court in December of 1997, fresh out of graduate school where she received a Master of Public Administration from the University of Akron. As the newly hired Training Officer, she was tasked to train all court employees on the MS Office Suite, the in-house Court Case Management System as well as general PC skills. Within 6 months of her new role, her responsibilities had grown exponentially to include business needs assessments, staff development, automation guidance, and increased efficiency of business processes. Over the next 24 years, she worked in multiple disciplines and managed implementations in every department within the Court. Currently, Ms. Benson is a Sr. Project Manager for Akron Municipal Court.
In January of 2022, Ms. Benson was nominated by Ohio Supreme Court Justice Jennifer Brunner to serve as a Commissioner on the Supreme Court's Board of The Unauthorized Practice of Law. Her appointment was confirmed by Chief Justice Maureen O'Connor. In addition, Ms. Benson is one of the newest Ohio Supreme Court's Ohio Judicial College Faculty Members. Ms. Benson is the proud Mom of one daughter Akeila Monae, also a college graduate and following in her mother's footsteps with a career in IT, and grandmother to one-year-old Yunitee. In her not so spare time, RaMona can be found working in her local church, The Light Church – Akron Campus, or serving on the Executive Board of the Akron Alumnae Chapter of Delta Sigma Theta Sorority, Inc. RaMona has also been a Board Member for The Hispanic-UMADAOP (Cleveland) for three years and Tarry House (Akron) for 8 years. Ms. Benson, always the quintessential public servant, feels honored to share her talents state-wide through local boards, the Ohio Supreme Court, and now as one of the Founding Members of The Ohio Black Judges Association. Ms. Benson is excited to share her plans on receiving her doctorate in Community Care & Counseling – Traumatology from Liberty University in the very near future.