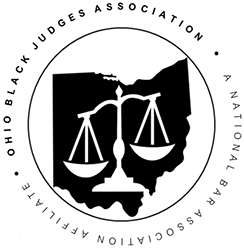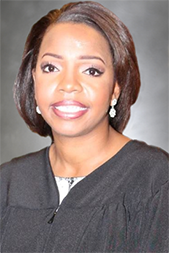 Carla J. Baldwin is a lifelong resident of the Mahoning Valley. She presently serves as the Administrative and Presiding Judge of Youngstown Municipal Court where she presides over misdemeanor criminal cases and traffic cases. She also is proud to serve those who have served by presiding over the Veterans Treatment Court, which is a specialized docket certified by the Supreme Court of Ohio. Judge Baldwin also presides over the Drug Court, which is also a specialized docket.
The Judge received her Bachelor of Arts degree in Political Science from Capital University (Columbus, OH). She obtained her Juris Doctorate degree from Western Michigan University Thomas M. Cooley Law School (Lansing, MI) with a concentration in Litigation. She has been a member of the Ohio Bar since 2008.
She most recently worked as a full-time Magistrate in Mahoning County Juvenile Court. Prior to this appointment she worked for the Mahoning County Prosecutor's Office for eight years serving as an Assistant County Prosecutor in both the Criminal and Juvenile Divisions. She presently serves as an Adjunct Instructor in Criminal Justice Studies at Eastern Gateway Community College and as an Adjunct Instructor in the Criminal Justice and Forensic Sciences Department at Youngstown State University.
Judge Baldwin presently serves on the boards of Inspiring Minds, Basement Ministries, Raymond John Wean Foundation, Opera Western Reserve, The Butler Institute of American Art and Classroom 2 Capitol. She is a member of the Mahoning County Corrections Planning Board, Nathaniel R. Jones Inn of Court, Youngstown Warren Black Caucus, Delta Sigma Theta Sorority, Inc., Mahoning County Bar Association, Ohio State Bar Association and the Greater Youngstown League of Women Voters. She is a past member of the Mahoning County Young Democrats, Sojourner House Advisory Board, Junior League of Youngstown, Junior Civic League, Mahoning County CASA , YWCA of Youngstown and Youngstown Chapter of The Links, Incorporated. She has also served as Parliamentarian for the Ohio Young Democrats.
Awards and Honors:
YWCA's Board Member of the Year Award (2013)
Mahoning County Young Professionals 25 Under 35 Award (2014)
YWCA's Outstanding Achievement Award (2017).
Ebony Lifeline Support Group Inc. Community Service Award (2017)
Alpha Kappa Alpha Sorority, Inc., Epsilon Mu Omega Chapter Woman of Courage and Vision (2018)
Diva of Distinction given by her Youngstown Alumnae Chapter of Delta Sigma Theta Sorority Inc.(2018)
Judicial Award from the Ohio Association of Magistrates (2018)
Trailblazer of the Year Award from Omega Psi Phi Fraternity (2018)
Ohio State Bar Foundation Community Service Award for Attorneys 40 and Under (2018)
Inducted as an Ohio State Bar Foundation Fellow (2019)
Inducted as an Honorary Member of Pi Sigma Alpha at Youngstown State University (2019)
Ohio Legislative Black Caucus Phoenix Award (2019)
Athena Award Nominee (2020)
NASW Region 4 Public Elected Official of the Year (2020)
Inducted as a Community Member into the Youngstown State University Chapter of Phi Kappa Phi (2021)
Ohio Women's Bar Association, Trustee (District 7)(2021)
Ohio Black Judges, Charter Member (2021)
Ohio Black Judges, Parliamentarian (2021)
Mahoning County Bar Association, Trustee (2021)
Supreme Court of Ohio Commission on Certification of Attorneys as Specialists,
Commissioner (2021)
Judge Carla J. Baldwin made history on November 7, 2017, when she became the first African-American female elected as judge in Mahoning County.